Hunt sea bass, swim with basking sharks and catch your first lobster! Everything is possible along the beautiful coastline of the UK.
Swim in the UK's clearest waters and explore this underwater playground first hand, safe with the knowledge you are being looked after and being professionally trained to be an effective underwater hunter.  In our spearfishing courses we coach everything you need to know from the correct freediving techniques to understanding fish behaviour to allow you to hunt each different species proficiently.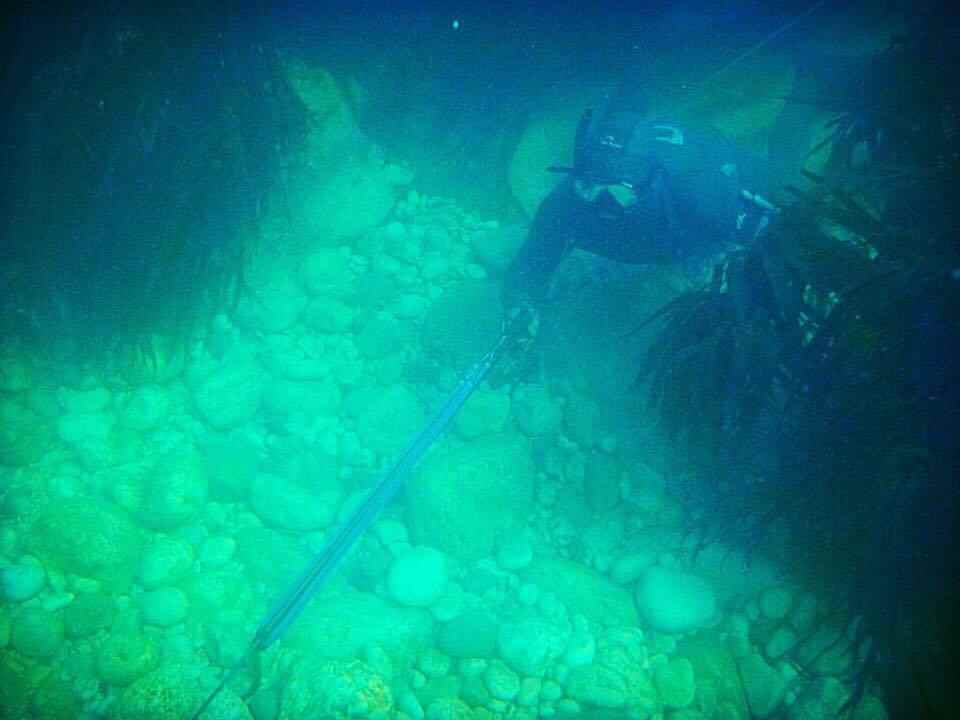 Spearfishing sustainability and responsible food sourcing:
Something that will always stand out when you meet a new spear-fishermen is the pride we all have in our ability to source our own food responsibly in a sustainable way.  With rod and line, nets and long liners, there will always be bycatch.  This is a fish or other marine species that is caught unintentionally while catching certain target species and target sizes of fish, crabs etc. Bycatch is either of a different species, the wrong sex, or is undersized or juvenile individuals of the target species. The problem with by catch is that 99% of the time they are returned to the ocean dead.  An unknown fact in the UK is that for every wild caught fish you see in the shops, 2 other fish have died as a result of bycatch.
Spearfishing is the most selective and thus sustainable form of fishing in existence and we produce next to zero percent bycatch.  The reason is clear.  As a spearfishman you will target only the fish you want to eat.  Our spearfishing courses will train you to identify and target only the correct species, at the correct size.  You to will be able to hold your head high knowing you are doing your bit for sustainable and responsible food sourcing.
As soon as you take up this sport and see first hand the beauty of what we have around us, you will have an overwhelming feeling of responsibility and accountability for the oceans and marine life around your local area and beyond.
What's covered in the spearfishing course?
Safety:
first and foremost its safety, not only for our day together but passing on the knowledge so you can progress safely yourself.
Freediving:
At the heart of every great spearo is a great freediver and this is where your journey begins.  We will cover:
Safe weighting for various depths of hunting.
Breathing techniques – learn how to relax, control your heart rate to extend your breathe hold.
Equalisation methods to dive deeper without ear pain.
Duck dive technique to start your descent while conserving as much energy as possible.
Correct finning form – be as efficient as you can to maximise your descent while conserving oxygen.
Breathing exercises (apnea tables) you can train at home to improve your bottom time.
Blackout risks and understanding your body's response to diving at depth.
Rescue techniques to recover and revive a blacked out diver.
Dealing with cramp while at sea.
Understanding and practising the above will without a doubt make you a better spear-fisherman and increase your bottom time dramatically, while making you feel more comfortable at the various hunting depths.
Spearfishing:
Once you have got comfortable with the freediving aspects of the course we progress on to the fun part of finding something for dinner.  You will find that spearfishing is incredibly instinctive, each one of us has these instincts ingrained into our DNA through millenniums of evolutionary hunting and survival.  We will combine this with experience and knowledge to make you an effective underwater hunter.
We will cover:
All aspects of our spearfishing gear and how to use it to its full potential.
How to use different guns for different situations.
Speargun accuracy and shot placements.
How to find our prime targets, their legal minimum sizes and bag limits.
Different species behaviour and how we use that knowledge to hunt them.
How to use the different types of kelp and underwater terrain to locate different species.
Multiple approaches to hunting, body position, profile awareness and stealth techniques.
Safely hunt holes and caves.
How to perform a stealth duck dive (advanced)
Hunt in currents and the extra danger that presents (advanced).
Safe float line management to avoid the dangers of line wrap (advanced)
How to locate lobsters and edible crabs plus their safe removal.
Fish dispatching, preparation and cleaning.
How to effectively use a dive knife, what each side of the blade is for and how to use the spear removal tool
Ocean awareness and dangers.
Sustainability and the environment.
What type of people take this spearfishing course?
Our spearfishing courses seem to be a very popular present idea for the weekend warrior hungry for the next big adventure! But we get loads of surfers searching for some flat day fun, hungry anglers who are fed up of coming home empty handed, as well as people who are just excited by the sport but want someone to show them the ropes before taking up this potentially dangerous adventure.
The sport is accessible to all people, from all walks of life with various fitness levels.  Like all sports, the fitter you are the easier you may find it.  However don't let a lack of fitness put you off by any means.  A key element to spearfishing is using as little effort as possible to conserve energy.  This in turn makes it easier to hold your breath while hunting beneath the waves.
What are the spearfishing courses like?
The days are designed so everyone can learn at their own pace in a safe controlled environment with the support they need.  Centred around having fun while learning this amazing sport in safe yet professional manner.
With private groups we can tailor your time to be as training heavy as you like. We can cram in as much as possible or we can just focus on getting you in the water asap and catching great tasting fish – the choice is yours.
Learn to free dive with the safest free dive techniques, and learn to understand your body, its need for oxygen and when you can and can't push that little bit further. Get comfortable with being negatively buoyant and hunting on the bottom of the ocean floor gliding through the gullies. Learn to gut, fillet and prepare your catch for the BBQ and enjoy the taste of success with the freshest seafood you will ever have 🙂
While the aim of the course is to prepare students to continue the sport in a safe and confident manner, we achieve the majority of this through the physical application in the water over lengthy classroom based lessons.  After the initial briefing we find that physical coaching works best in terms skill progression and an all round fun day.
The company is fully insured to lead these courses so rest assure you are being led by a professional organisation that takes your safety very seriously.
If you want to take up the sport afterwards then we always look after our students with kit deals and discounts!
When is the best time of year?
Most spearos try to hunt all year round looking for breaks in the conditions during the winter months.  However the warmer weather certainly makes for a more enjoyable first time experience! Our most popular periods are late April to late September with the traditional holiday weeks usually booking up well in advance.  We can provide courses all year round no problem, just get in touch to discuss options.
As a rule of thumb, January to April are quieter months fish wise, with many species heading for deeper water.  Its a harder period to be a proficient spearo in but this is where the experience kicks in and we use all our wit and knowledge to find something delicious for the table.
So this is the 'challenge' for a UK Spearo, against the sometimes abysmal elements thrown at us. We will teach you how to make the most of our somewhat diverse conditions as a true spearo can still make the most of limited fish and poor vis.  Our spearfishing courses will train and equip you for this, and when you're bringing home the meals all year round you'll know you're a true spear-fisherman.
The warmer months From May to October see the largest numbers of fish coming to our shore lines and you can expect to see heaps of life and action.  From bass, pollock, cod to blue fin tuna!
Is equipment provided?
Yes all the gear is provided at no extra charge.  Being the UK distributor for most of the leading the brands means we can kit you out with spearfishing's premium equipment at no extra charge.  This includes spearguns, knifes, two piece hooded apnea wetsuits, freedive fins and masks etc
Blue water spearfishing courses
If you are going on a big trip and want some training in the UK before you go, then we can help with that.  Taking on the big game can be a daunting and potentially dangerous pursuit, not to mention getting your head around the new float systems and guns.  We have all the blue water equipment here so we can arrange a training day to use to it all.  Learn to:
Load and use the big guns
Rig up a big game float systems to maximise you chances of landing the targeted fish, progressive, drag weights etc
Cover the different hunting techniques targeting various species ie Dogtooth, yellowfin, wahoo, marlin
How to fight a big fish safely with simulations including line management awareness.
Big game spearfishing holidays with tuition
Ever wanted to spearfish a 250lb tuna, sailfish and wahoo but don't know where to start? We can arrange both the holiday and the instructor to make it happen for you. We can either provide an instructor to a destination of your choice or we can recommend and arrange absolutely everything for you.
If you are an avid UK spearo and want to take the step up to the big stuff, or just want to safely get into the biggest fish on earth then get in touch now and make it happen – live the dream 🙂
Contact us now and start planning the trip of a lifetime!
Course prices and locations:
We currently offer courses throughout most of Cornwall (from St Austell and across the Lizard) as well as Dorset and the neighbouring areas.  Exact locations are chosen close to the course date after we have assessed the conditions.
1 day course (per person)
2 day course (per person)
Dorset – Group session 2-4 people max
£150
£275
Cornwall – Group session 2 people max
£150
£275
Private 1 on 1 tuition
£250
Learn more about spearfishing courses in Dorset
Book now:
We run courses all week long so if you are interested then the best way to get things started is to get in touch.  We tailor the tuition to the skill level and experience of the individuals along side their desired learning outcomes.  Be it an experience day just for fun or a focus on specific niche areas like hole hunting or targeting bass.
Please call 01726 213290 or email enquiries@spearfishing.co.uk or use our contact form 🙂
Want to pay for your course now? Click here.
Meet your instructors:
Name: Tony Eynon
Age: 41
Tuition areas: Cornwall + abroad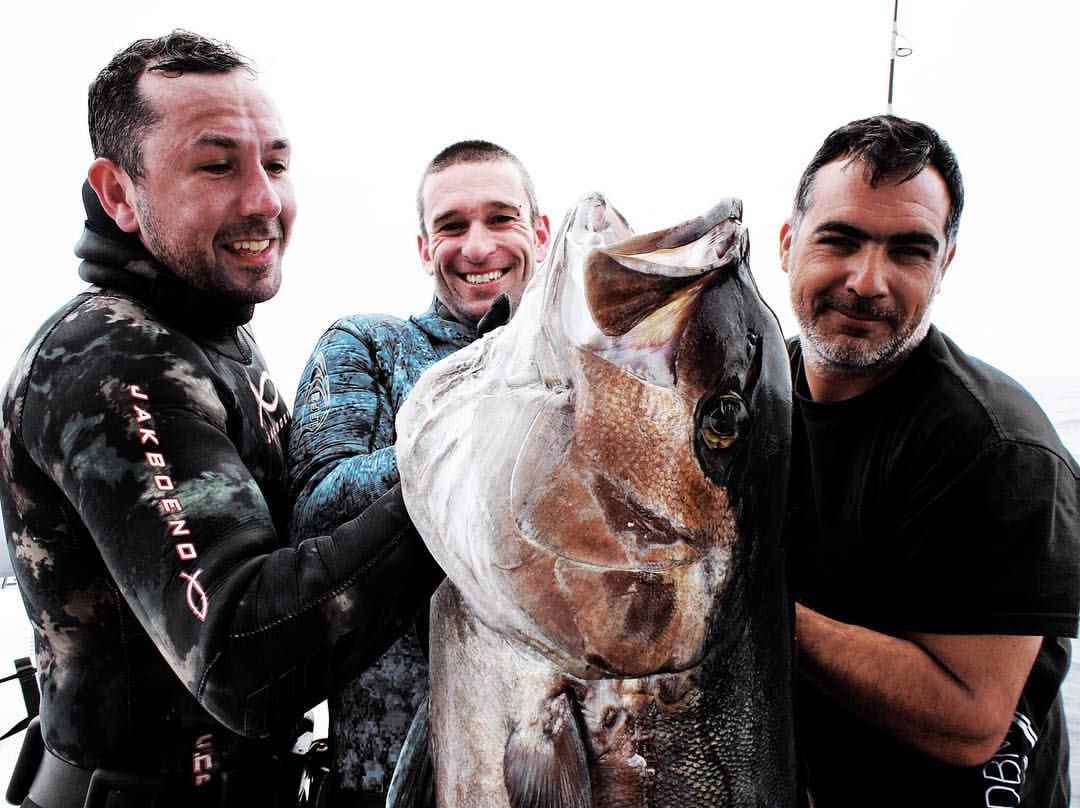 Tony has been a spearo for over 10 years, getting his first taste for breath hold free diving during his travels around the beautiful coastline of South East Asia and Australia after leaving university.
With a passion for sea fishing, it wasn't long before he bought his first speargun and combined the two. Driven by the endless quest for bigger fish, Tony's yearning to hunt has taken up most of his resources, be it all his spare time or his money.
Fast forward 10 years and he has a couple of nice world records and leads guided spearfishing holidays to various locations around the world like Ascension Island, Cape Verde, the Azores and other remote destination.
He has trained people in all types of spearfishing including blue water hunting for the big game. From tuna to wahoo, Tony has hunted many types of fish can show the different stalking techniques for each as well as how to set up the correct float systems for the different types of species.
Name: Lee Hartley-Janes
Age: 39
Tuition area: Devon and Dorset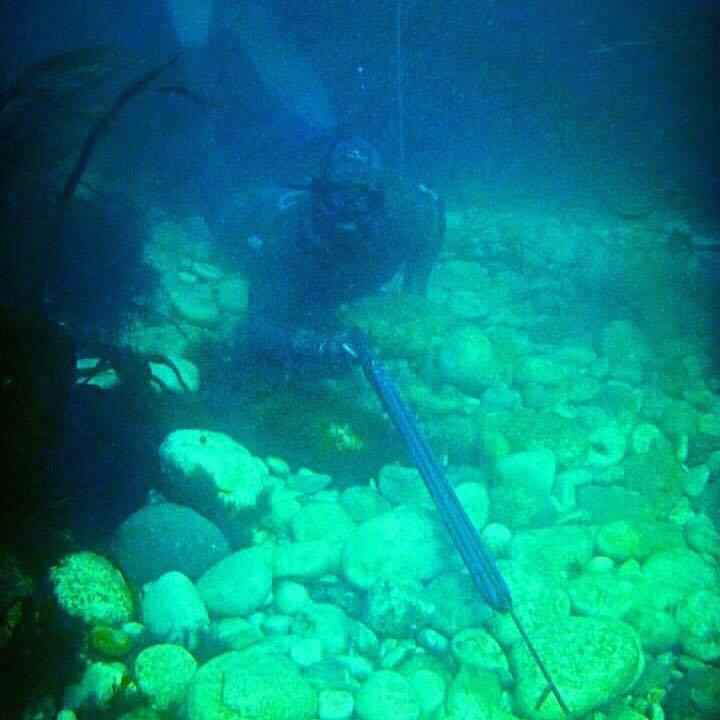 Lee is an all-round 'waterman' he spent most of his childhood submerged in the salty stuff around the SW coastline of England. He soon picked up a fishing rod and took to dangling for fish in rock pools at the age of 5, by the age of 8 Lee was donning a snorkel and mask admiring the the beauty of the UK coastlines.
At the ripe age of 16 Lee followed his passion for the ocean and Joined the royal Navy, Lee also found a passion for surfing. By 19 he had was a very successful angler and surfer, but wanted something more extreme….so soon discovered the world of 'spearfishing' and he was well and truly hooked!
Lee's early days would see him spearfishing Teignmouth S Devon in a shorty wetsuit bright yellow mask, onion sack and an old 65cm speargun; even back then he would walk up the beach with an onion sack full pollack and crabs.
Now at the age of 39, Lee enjoys the ocean more than ever and spearfishes 3 times a week or more alongside his other passion for mixed martial arts and Judo.
Lee is an energetic and enthusiastic person with real a passion for spearfishing, he is somewhat of a 'shore bass guru' and thus has numerous double figure fish under his belt.
"With over 20 years of spearo, I feel I have a lot to offer to individuals looking to start up spearfishing. I have spent many hours in the water studying fish habits / movements, tide and weather patterns, I am in the water all year round and still spear bass throughout the coldest months of winter. My wealth of knowledge and experience will ensure that you all have a safe, enjoyable and memorable experience. I look forward to meeting you soon :)"