Spearfishing UK: Who we are and what we're about.
It's hard to summarise what spearfishing UK actually is. We want this site to be the embodiment of everything that is truly great about spearfishing.  Not just the gear, but the journey, the friendships, the adventure.
We don't want to sell all the mediocre gear like everyone else just because it's easy for us to get hold of and make money from. We don't want to offer mediocre tuition just because we managed to get the insurance and we have access to cheap gear. We don't want to offer holidays just because we get a great kick back from them.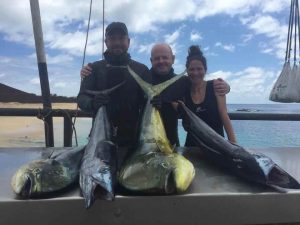 In fact we are the exact opposite to that position.
We demand whatever represents the very pinnacle and search exhaustively until we find it.
We won't sell gear from local dealers because it's easy.  We sell *the best* gear from around the world in its entirety because *it's the best gear*.  Sometimes its crazy expensive and sometimes its super cheap because we have cut out the middle man.  The price may change but the quality levels stay the same.
We don't offer tuition because it's a nice side line.  We partner with the most experienced spearo's in the UK because it's the only way to offer *the very best spearfishing courses in the UK*.
We don't offer holidays to places like Ascension, the Azores and Cape Verde because we get a good kick back.  We offer it because these are the best places on earth to spearfish and we want to go back there!
We're proud to have the biggest free knowledge base of any spearfishing site.  We're proud to have the biggest Facebook following and we're proud to be representing the best brands on the planet.
Time is such a precious commodity.  Those of us who work full time, have families to look after or have other honourable demands placed upon them often realise this more than anyone.
If you're like me then you don't have time to waste on mediocrity, be it in work or leisure and that ethos applies to us here at Spearfishing UK in everything we do.
We hope this shines through and you join us to equip, train and explore this amazing sport of single breath spearfishing.