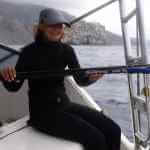 Wow – Penny has not one but TWO confirmed world records, both using the Rob Allen Scorpia speargun.
Here's the letter Penny received from the IUSA:
Penny, I am very happy to inform you that your applications for the world record Black Jack at 10.3 kg and the Horse-eye Jack at 10.2 kg were approved by the IUSA board!
We congratulate you on getting TWO world records! We will be mailing you two certificates soon, and we will post your picture on the IUSA website shortly.
Congratulations from the entire IUSA Board on this great accomplishment, and we hope to see more fish from you! Safe diving.
Sheri Daye
President, IUSA
561-715-0247
A review of the Rob Allen Scorpia Speargun from Penny:
I have been a fan of Rob Allen gear since my spearfishing days in South Africa. To me, the Rob Allen brand signifies quality and reliability and, let's face it, you don't want to be let down on the final straight! I highly recommend the Rob Allen Scorpia and if I ever get the chance to visit Ascension Island again, it will definitely be travelling with me, first class!