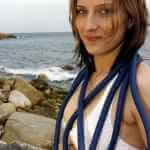 We are very excited to announce that speara Hannah Naylor will be joining the team on ASI in March 2012 hunting for an elusive Women's World Record. Following on from Penny's fantastic success with two Women's World Records in August, Hannah will be looking for one of her own.
Hannah has not yet decided on her gun of choice, but prime contenders will be 90-100cm guns with double 16mm rubbers and 7.5mm shaft.
Titus, Colin and Tony will also be on location specifically hunting for sailfish, so it promises to be a memorable trip.