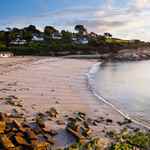 Another touristy beach that produces Pollock, mullet and bass.  You are heading to the point on the right and beyond.  You can gain entry from the beach which is a longer swim or there is overgrown path you can take via walking up past the restaurant. If you are swimming out from the beach keep your eyes peeled for bass lazing in the sandy shallows as they sometimes snooze there after a good feed.
It's well worth exploring out into the bay as well as close in.  Just be mindful that this area is also used extensively by rock fisherman so there is heaps of tangled fishing line around close in.  Always wear a knife and remain vigilant.  The further out towards the point the less tackle you will see.
Fish on and around the point, I've seen larger fish just past the point out a bit deeper but on a bad day the vis can get worse past the shelter of the bay.  It also gets instantly colder past that point.
If you are ticking off your species list then keep an eye out for mackerel which are not too uncommon past the point.
Parking is easy with car park right opposite, take change as it's not free unless you go after 6 (I would double check that!).
While not the best spearfishing location in Cornwall it's certainly produced the goods time and time again.
We also run spearfishing courses in and around these locations so if you fancy getting involved then check this out: Spearfishing courses Cornwall