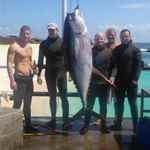 UK Spearfishing Buddy's Facebook group
If you don't fancy joining a full on club and just want to find a couple of buddies to dive with in your local area, then join a Facebook page called UK Spearfishing Buddy's.  Its a closed group and is run by some great admins who will help you get into the sport, find you some dive partners as well as offering advice where needed.  This would be our personal recommendation for getting in to the sport.  They also secure great member discounts on equipment from local dive shops who support their work.
Click here: UK Spearfishing Buddy's
Joining a spearfishing club is a fantastic way to further your involvement in the sport and has endless benefits.  It's perfect if you're new and want help, looking for dive buddies, looking for new dive spots or looking for people with boats lol.  There are clubs all across the UK which are always looking for new members.  What's more it's a great way to get into competitions of which there are about 6 each year
Check out the clubs and contact details below for further information.
Club Portsmouth – Southsea: southsea@underwaterfishing.co.uk
Club Brighton – Sussex: sussex@underwaterfishing.co.uk
Club Dorset – Wessex: wessex@underwaterfishing.co.uk
Club London – LIC: kevd333@yahoo.com
Club Devon – EXE: dave@spearo.co.uk
Spearfishing courses:
If you would like to go full steam ahead and get some training then we offer comprehensive courses around Cornwall and Dorset.  All equipment is provided and its a fantastic way to get started in safe and informed way.
Click here: Spearfishing courses