Spearfishing in Caerhays / Porthluney cove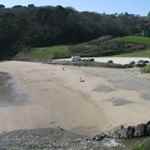 This is a very busy tourist beach so if the suns out expect a lot of very concerned looks as you march towards the ocean looking like a navy seal.  If the tide is out then it's a bit of stomp and if its in, it's a bit of swim past the shallow water. You want to hug the left hand side rocks and head to the point.  Don't bother looking for fish until you have passed this point.  When you get there, head left for a couple of mins.  All this area has produced good bass so it's well worth exploring.  However, for the prime spot you want to look at the formation of the cliffs and look for the bit that sticks out the most.  Find that and follow it out for about 30 meters and start exploring.  This is a great spot that holds some good size Pollock and healthy levels of bass (on its day).
This is also where I saw the biggest grey mullet of my life.
This thing was so fat it looked like it couldn't swim properly, it kind of wobbled swiftly which somehow worked well for it.  I'm 100% sure this mullet was pushing 15lbs and while not the most glamorous fish in the ocean, it most certainly would have showcased on Facebook as a new profile pic.  Sadly for me, I was too stunned to shoot.  Caught somewhere between hysterics and awe, this fat pig of the ocean made his successful escape into the abyss.
Should you hunt here and shoot or see this mythical beast then I would love to hear from you 🙂
A word of warning that this beach can get busy.  While you won't see any swimmers out where you are, there are plenty of boats racing past.  Make sure you are seen, always use a spearfishing float etc and keep your eyes and ears open at all times.
Parking is easy and costs about £3 for the day at last check and there is a café for when you get back.
We also run spearfishing courses in and around these locations so if you fancy getting involved check this out: Spearfishing courses Cornwall
<< Back to Spearfishing Hotspots
Article Tags
Related Posts