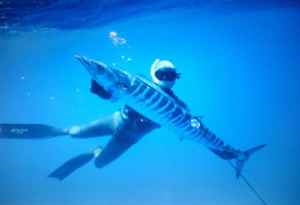 New to spearfishing and want to learn more about the different techniques used to hunt bass and various other species?  Below is a brief summery followed by some in depth articles of the various aspects of spearfishing techniques within the UK and abroad.
In the UK spearfishing by far, normally all happens at the bottom of the ocean – right at the bottom.  If you're not hugging that rocky floor or right in among the kelp then you're probably not going to be very successful.
You may start off being a surface hunter but the odds of success are massively increased using other techniques.  The most popular type is the ambush but you will find that the guys who win all the competitions are veteran hole hunters and this is what you want to moving towards.
Fortunately for us, most fish are quite curious and will often come to take a peek at you when you land in their neighborhood.  Some people will even twang the bands on their speargun or try to make croaking sounds just to announce their presence and hopefully entice in a previously unaware fish.  Albeit the last desperate hope of a fish-less dive.

The curiosity of fish varies massively.  While Pollock tend to be more obliging to the would-be spearo, other fish like bream tend to stay frustratingly out of range.  Bass on the other hand vary from fish to fish.  Some can be nervous, darting in and out while others look like they could ram you out of the way!  They can suddenly engulf you in shoals or cruise around on their own, there are no predictable expectations so just be ready for all potential outcomes.
Another thing to note is that generally you want drop in to fish-ville as smoothly and silently as possible.  While fish tend to want to check you out, you need to not scare them off by thrashing around on the surface trying to start your dive.  Instead of doing a full handstand formation to begin your dive, try just lifting up one leg.  You will find this is more than enough to sink your torso and begin your descent.  On your way down use as little energy as possible. Conserve your energy and your breath hold will thank you in about 60 seconds time.
Also, take your snorkel out of your mouth and when you reach the bottom you won't need to worry about bubbles trailing out and spooking the fish.
Remember not to get too excited when you see fish start to come in, control your heart rate and stay calm.  Don't start waving you gun around like you're in a Western and thrashing your head from side to side trying to see everything that's going on.  You need to stay smooth and glide.  Try to keep it to a minimum but if you want to look around you then do it in a calm and relaxed manner.  You'll get a feel for everything we are talking about but just to keep all in mind.
Debatably, most hunting takes place between 8 – 12 meters.  However, plenty of bass have been shot from a couple of meters down and past 25+ meters.  It's a common misconception that the deeper you go the bigger fish are.  It's almost like the Gods will reward you for going as deep as you can for as long as you can.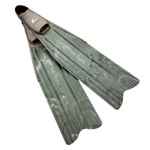 Needless to say this is crab crap and while you can land a beast at those scary depths, you may also land it snoozing on a shallow sandbank on your swim home.  The depths you hunt at can also depend on the current, tide or just the general area.  The main thing is not to get obsessed with how deep you can dive and how long you can stay there for.  It's easy to do, especially starting out – however, it's the wrong elements to focus on.  They will both develop in due course.