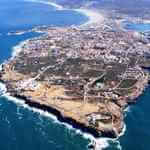 Hi All, Just a quick update from the Euro African Champs in Peniche ….. After rather a long ferry trip from Plymouth to Santander and an even longer drive from the ferry in Spain down to Portugal we finally arrived in Peniche , only to find the water temperature had just dropped off and the swell had come up . It was one of those "you should have been here yesterday" moments.
None the less we did manage a few days of decent scouting before the really big wind and swell chased us off the water , with visibility dropping to zero in the big swell. We have also managed a little bit of spearing outside of the competition zones, where we've had Bass and several decent Sargos as well as a few other fish which had to be shot in the name of team research .
Today we scouted again for the first time in about 3 days , and despite some pretty tough conditions we all managed to find a few decent marks in the reserve zone , which we are now convinced will have to be used at some stage during the comp .
Of course the unexpected conditions have had all three of us scampering about for more gear! – in other words , trying to find the smallest guns with the biggest 'pranger' on the end so that we might actually be able to hit something in the dirty churn ! (like the attached pic of a Sargos shot today with a newly acquired 5-pronger)
Tomorrow we will be moving out of our apartment and into the official team hotel , with all the official formalities kicking off tomorrow evening ….it's also the last day we are allowed to scout as Friday is the official rest day when nobody is allowed into the competition areas.
The attached team photo was taken on our mooring in Peniche harbour with the team wearing our sponsored kit , courtesy of Crystal Vis – thanks a mil Lucy and Titus, your support is much appreciated .
Gary