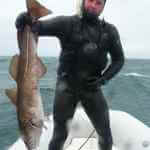 Cod are making a huge comeback. They are more and more common off Portland. Time was when one diver in the club would get one every few years. Nowadays we seem to end up with one on the boat on most trips. In 2011 a good number of double figure cod were landed and it is only a matter of time before the ancient British Record falls! Cod weigh a lot more than their size suggests. Side by side, a similar length and girth cod and bass will have a big difference in weight with the cod being a lot heavier than the bass.
When to hunt for cod:
Cod are encountered off the coast all year round. Many see the cod as a winter fish. This is not the case at Portland where we see them in good numbers all summer long.
Where to hunt for cod:
Portland cod in lovely vis in September 2011 Cod have a very wide distribution and can show up just about anywhere on the coast. Portland has certainly yielded the best catches of cod for spearfishermen as they have vast food supplies with the mussle beds and crab ledges. There is no inshore trawling off the Bill due to the underwater terrain.
Behaviour and Hunting:
The main issue with cod is finding one. These fish are also masters of camouflage and disguise. They tend to be in water deeper than 10m and like ledges, kelp, caves and holes. When the tide is flowing they tend to hide under the kelp or go behind a ledge and cruise around waiting for food to come by. They are easily mistaken for wrasse (sound surprising but wait til you see one amongst a wrasse shoal and you will see what I mean!) and swim in the same way… and act in the same way.
They are generally wary of a diver and will usually rely on their camouflage and inevitable entourage of wrasse to hide from you. Once sensing they are rumbled, they will tend to move off at a steady pace and you must take your shot as they will not come back.
The best approach is to dive, find a nice ledge and hold up. Then scrutinise the milling wrasse very carefully. One of them often turns out to be a hidden cod. Sometimes you will see them in a hole or a cave or in a wreck too. Look under the kelp and bear in mind that when stationary in patchy vis, cod are hard to see…
Dive Report:
"I was hanging on the ledge at 10m, surrounded by kelp and wrasse. Yet again looking for my first cod. The wrasse paraded past, and I was frustrated at them, due to their numbers and patterns and the knowledge that one could be a cod. After nearly exhausting my air I looked into the kelp and saw a deep dark copper body motionless between the kelp stalks only 2m away. It had been there all along. Sensing it had been rumbled the 8 pound cod started to move off but was not in time to avoid my rapidly tracking 100cm Zulu Carbon."
Eating:
9/10 an old favourite and very versatile – fantastic eating.
Weapon of choice:
Rob Allen 80cm Carbon with 20mm band and 6.6mm spear