The manacles:
We are running boat trips out to the manacles. Spearfishing the manacles is right at the top of most spearos hit list.  The rocks are in Falmouth Bay and extends about 1 nautical mile east and south-east of Manacle Point, on the east coast of the Lizard Peninsula. The nearest village is Porthoustock.
The Manacles are a famous set of treacherous pinnacles off The Lizard peninsula in Cornwall and have claimed many boats throughout history.  These granite spikes shoot up from all depths to a variety of heights, some are clearly exposed while others hide just below the waterline.
The rocks are rich in marine wildlife and without a doubt hold record breaking fish if they can be found. The reef consists of many submerged rocks and several groups of rocks that break the surface, although some only do so at low water. The water can offer good visibility even when the visibility in shore is poor.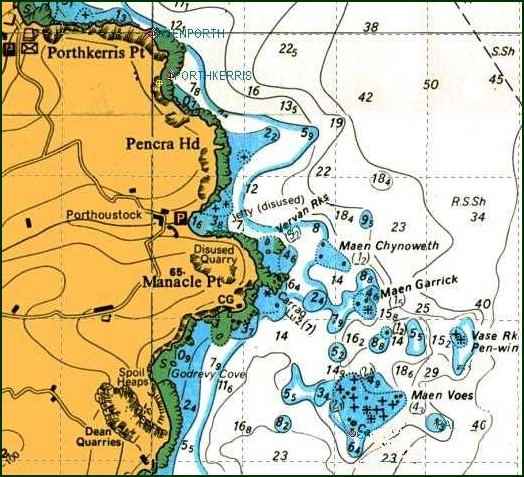 The reef itself can offer the beginner Spearo a taste of open water reef fishing at shallow depths starting at 6 meters. For the more advance Spearo depths up to 20 meters plus so the reef can cater for all level of needs. This would be an ideal opportunity to get yourself ready for blue water hunting aboard.  We can also supply blue water equipment to train with.
Ever wondered what it would be like to swim with a basking/blue sharks or dolphins, this might be a possibility as these animals are common across the reef during summer months and even tuna have been sighted close by on very rare occasions.
If reef fishing does not take your fancy the Manacles also offers hundreds of shipwrecks, starting depths of around 6 meters.
Depending on the strength of tides one of the best ways to dive the reef is a drift dive. This means you get dropped off at one point and follow the current whilst spearfishing then get picked up and repeat the process. This allows you to cover maximum ground without burning yourself out.
Wreck spearfishing charters
Wreck diving is one of the most exciting forms of spearfishing and normally withheld to the privileged few.  The few who have access to a boat and also know the spots!  Some wrecks are bulging with live while others have rusted away to nothing more than piles of iron sand.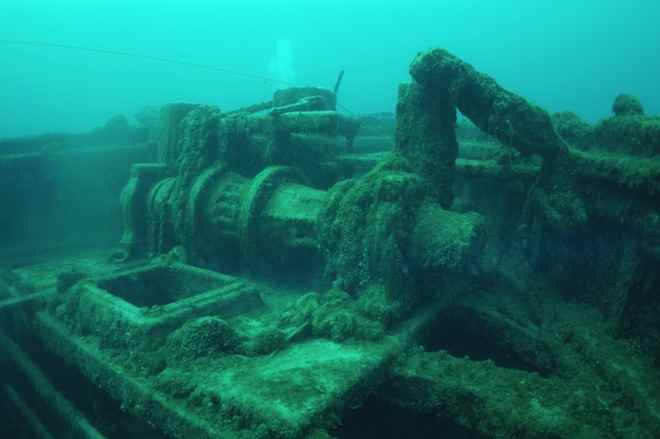 Our skippers know exactly which ones hold good fish at good depths for divers and it's their job to ensure you come back for more!
Thankfully Cornwall is riddled with wrecks.  It has a longstanding history through the various wars alongside treacherous hidden pinnacles which ultimately resulted in a vast and diverse array of wrecks to be explored and hunted.  The remoter wrecks often hold far better visibility than typical inshore diving which is always a welcomed sight after an early start.
Your boat: Wave Chieftain
Falmouth based boat Charter aboard the "Wave Chieftain".
The skipper Nigel has over 30 years' experience fishing these marks, rest assured when we say we partner with the best!
The day will begin and end in Falmouth with potential pickups on route.  Snacks and hot drinks are available throughout the day but you are encouraged to bring your own lunch.  This by far is the most luxury you will experience on a UK spearfishing charter.  It's not a rib with a GPS, it's a brand new 35 foot sports explorer with all the trimmings including a hot shower! 🙂
Assured quality service used by main frame media, local authorities, commercial, technical, sport dive teams and anglers from around the world.
30 years of local in depth knowledge and a fast modern, twin engined 35ft vessel for your comfort and safety assures you of a great day out on the water.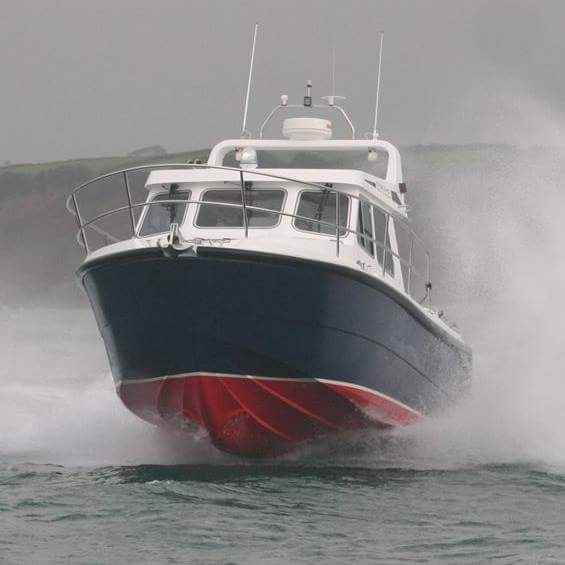 "Wave Chieftain"
New for the 2017 season.
Kingfisher 35 Sports Explorer.
8 passengers in comfort.
Licensed to 60 miles offshore.
Twin 260hp engines for safety.
Automatic Identification ( AIS).
Olex 3D sea bed mapping.
Fully equipped offshore vessel.
Owner operated.
30 Years Experience
Prices:
£600 private charter with guide if needed
or
£100 per person
Full day with snacks and drinks (hot and cold).
Hot shower
General fantastic facilities