RAID Advanced Freediver Course – advanced freediving courses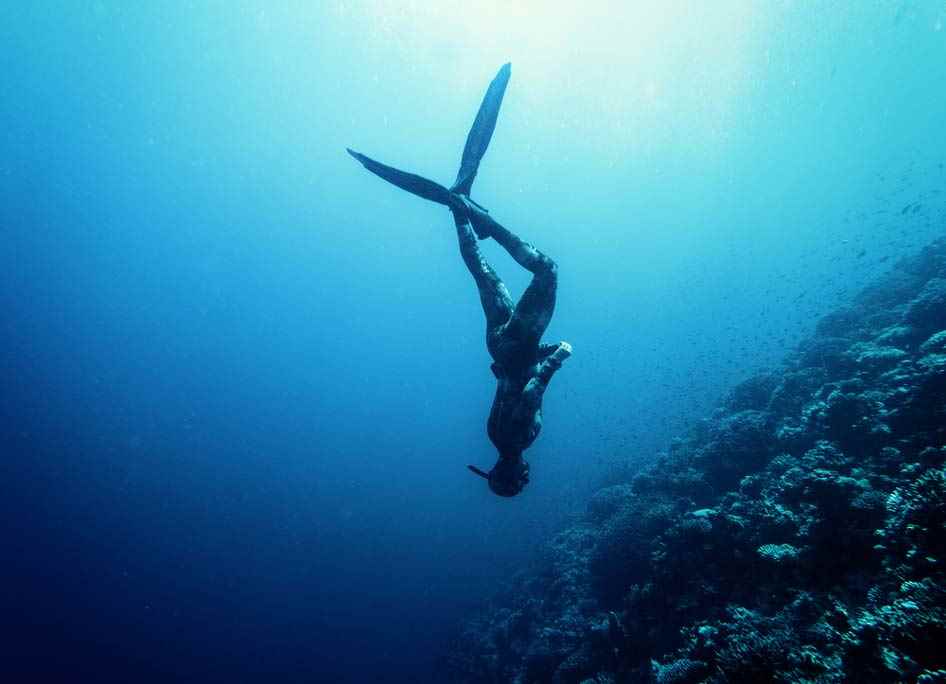 The next step in your diving progression is the RAID advanced freediving course. This course is for spearos who are looking to take their hunting deeper, and for blue water hunters.
The RAID advanced freediving course takes you breath hold diving up to 30m and learning more about the physiology of deep diving and how to prevent injury.
After your first freediving course it can be easy to go deeper after learning breath holding skills, finning and equalisation techniques. However, if you dive over 20 metres without the correct knowledge of lung and diaphragm stretching then you increase the risk of a lung baratrauma which can be serious.
On the advanced freediving course you learn the correct stretches to perform to alleviate this, as well as other techniques to prevent the chance of it happening. And if it does happen, you'll know what to do to help yourself or your buddy.
When you start blue water spearing or hunting deeper, the advanced freediving course will give you the knowledge and skills to stay longer at depth, rather than diving down and immediately having to return to the surface. On the RAID advanced freediving course you'll be practising static apnea and dynamic apnea in the pool, to get your body and mind accustomed to longer periods under the water.
You'll then move to open water, where you'll be diving deeper and doing deeper safety and buddy skills. You'll also be required to have a CPR and first aid qualification, so that you are equipped to deal with any emergency if it arises.
You'll also learn more in the classroom about the mammalian dive reflex, and how to make it work for you. You'll learn how to bring on bradycardia and blood shift, and how to improve the oxygen reserves in your blood.
Your course starts even before you meet your world class instructors when you complete the theory work online. This is then embedded on the advanced freediving course when you're face to face with the Go Freediving team and they can impart their decades of freediving knowledge.
The UK advanced freediving courses take place at Vobster Quay in Somerset, an inland site perfect for freediving. It has no tides, no currents, no waves, and food and hot showers are right by the water. Under the water are also thousands of fish and incredible attractions such as planes, boats, massive steel structures, cars, a truck, and even a caravan.
In addition, Vobster boasts a purpose built freediving platform, designed and commissioned by Go Freediving's Emma Farrell. This is situated over the deepest part of the lake and students taking the advanced freediving course take part of their course on it. You can also take the advanced freediving course on one of their freediving holidays abroad.
The advanced freediving course is open to any spearfisher who has the RAID freediver, AIDA 2 star, or SSI level 1 qualification, and who also has a CPR and first aid qualification which has been taken or refreshed within the last two years.
The RAID advanced freediving course is the perfect course for any spearfisher who wants to take their spearing to the next level, and stay safe and happy in the water.
Learn more and book your freediving course place by clicking here