RAID Freediver Course – beginner freediving courses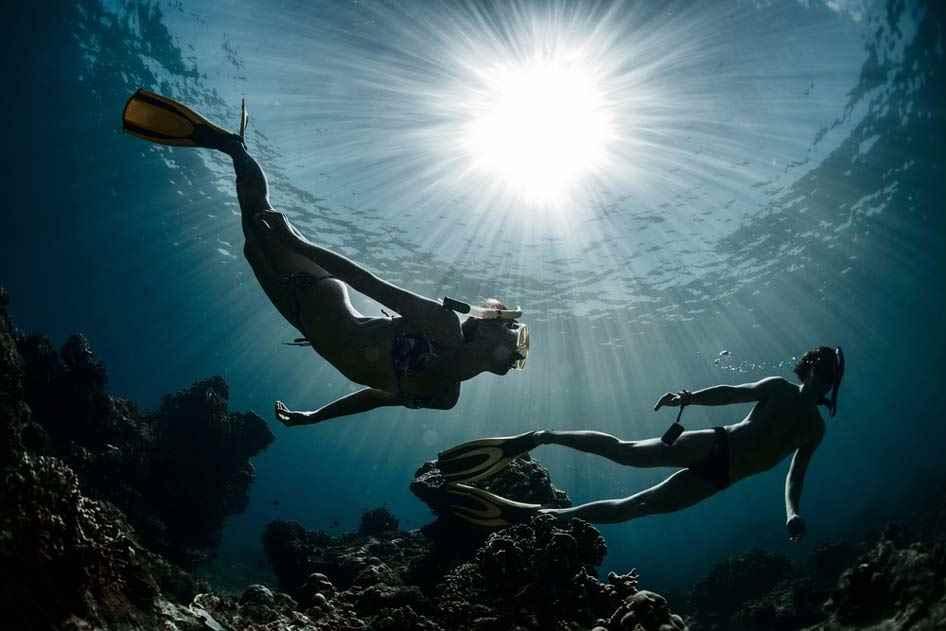 The best beginner freediving course is the RAID Freediver Course. It takes place over at least two days and gives a thorough grounding in the sport of breath hold diving. This beginner freediving course will equip you for safe and successful spearfishing.
Taught by some of the world's most experienced freediving instructors, most of whom are also accomplished spearos, the RAID beginner freediving course from Go Freediving is the best place to improve your knowledge and techniques so that you get the most out of your spearfishing.
You start your RAID beginner freediving course online, reading through the manuals at your own pace and then meet your beginner freediving course instructors who will take you through your first theory lesson, learning about how to breathe and hold your breath.
You'll also get the chance to try out lots of different masks, as well as long fins, and then put them to the test in the first water session which takes place in a pool. Here you'll be learning correct body positioning, finning, buddying, self and buddy rescue skills, and performing a dynamic swim of at least 30 meters.
The RAID beginner freediving course then moves to open water and the rest of the course is dedicated to depth and improving knowledge, technique and performance. Go Freediving teaches the RAID beginner freediving course at Vobster Quay, a stunning inland site, teeming with fish, mussels and underwater attractions.
The advantage of learning to freedive at Vobster Quay is that the conditions are so controllable. There are no tides, currents, waves or bad weather to worry about so diving goes ahead all season long. This means that all course time is taken up with learning and improving. You can also take the beginner freediving course on one of their freediving holidays abroad.
Go Freediving also keeps the instructor to student ratio high, so you'll always have a lot of dedicated attention from the instructors.
A question that experienced spearfishers often have is 'why can't I go straight to the advanced course?' To maintain insurance cover, only spearfishers who have a beginner freediving course qualification from RAID, AIDA or SSI can go on to do the advanced freediving course.
However, the beauty of the RAID beginner freediving course and the way that Go Freediving teaches, is that the course is tailored to the individual. You can dive up to 20 metres on the beginner freediving course and there are some exciting dives to be had at Vobster, including swimming through sections of a plane, underneath a truck, and over submerged boats and cars to name but a few.
On each course weekend there are always people completely new to freediving, as well as plenty who are already spearfishing, or experienced divers. The one thing that is consistent however, is the feedback Go Freediving gets. Every student, no matter what their prior experience level is before the beginner freediving course universally says how highly they rate the course and the instructors and comments on how much they have learnt.
We recommend that all spearfishers take the beginner freediving course with Go Freediving as it will undoubtedly improve your freediving and that will improve your ability to hunt. The other advantage is that the safety skills learnt could save your life or your buddy's.
Find out about the RAID beginner freediving course and book your space now by clicking here