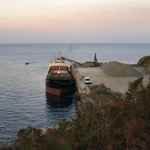 The 'not so secret' secret spot of Porthoustock. On its day I don't think this place can be beaten, it's a real profile pic generator.  Big bass, big Pollock and grey mullet if you are so inclined. You can drive right on the pebble beach meaning minimal distance to trek with your gear. Just make sure you very publicly put some change in the voluntary donation box. The local fishermen are… well.. 'very local' shall we say, and you don't want draw attention to yourself for the wrong reasons.  They are on the left, we go on the right.  They're are the rules, break them at your own peril lol.
Now you have survived the locals, there may or may not be a giant tanker you need to swim past.  It turns up at high tide, gets filled with rocks from the quarry, and then disappears again.
If it's there you probably shouldn't swim past it although I do every time.
Ultimately you are heading around the corner.  However the swim out is normally just as eventful.  Close in to where the tanker parks is full of small Pollock and mullet.  The area is riddled with string weed and is great fun for chasing mullet.
A bit further out and the kelp starts to take hold.  I would say as soon as you turn the corner you are in bass territory.  I normally hunt from that point all the way up to and around the obvious rock formations.  The rocks form a large circle.  On the inside of the circle there is often bass and good sized Pollock, while outside the circle you can find huge bass deeper down.
If there is a bit of swell you can also find bass feeding in the white water by the rocks.  Just tuck yourself behind one, away from the current, lock on your speargun and hunt it.  You have to be quick though as they are very skittish.
You will see a couple of rocky beaches there which are great for a breather.  On your way in to them look for bass resting in the sandy beds between the weed.  It's not uncommon to find them resting there after a good feed.
Overall if you survive the fishermen who seem to hate everyone, especially other fishermen, and also the giant tanker which is just generally scary as hell, then this place can genuinely produce excellent fish.  It's a trek to get there but well worth it.
We also run spearfishing courses in and around these locations so if you fancy getting involved then check this out: Cornwall spearfishing courses